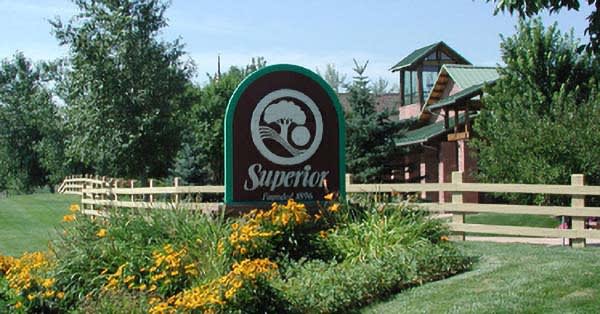 After a long time coming, new home construction in Downtown Superior is underway. Interest is high as the master planned, mixed-use area is ideally located between Boulder and Denver. With close proximity to Highway 36, this easy access community will attract home buyers from within Boulder County plus those who want to gain new entry to Boulder County real estate.

​​​​​​​Overall, Downtown Superior development will have 1,400 residential units.
Even with urban living as a theme, they incorporated 42 acres of recreation and open space into the plan. To exercise in any weather, there's the 150,000 (!) square feet of indoor rec available at the Sports Center. A mixed-use area in the neighborhood core will offer retail, restaurants, living and office space.

​​​​​​​Three builders are currently starting development in Downtown Superior: , and Thrive Home Builders.

Remington Homes is knowledgeable about the area, as they built the Coal Creek Crossing near Old Town. For the new Superior community, Remington offers three different plus three single family home plans. These homes will be near the Sports Stable recreation center and adjacent to the mixed-use downtown core. From what I've seen they've done a fantastic job with the townhome floor plan, including 10- and 12-foot ceilings, high-end base finishes, and stylish design. Ranging from 1300-1800 square feet, the townhomes base price will start at $425,000.

​​​​​​​Their single family home plan is still being finalized, but they shared with me initial layouts, and it's pretty exciting to be able to add a fourth floor as an option! These new Superior homes will be nicely sized starting at around 2400 square feet.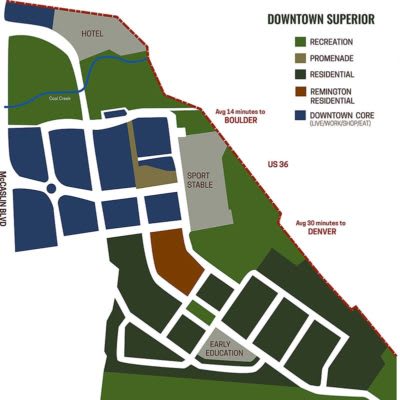 Credit: Downtown Superior
They will be very high density, with about 8' between homes, but approximately 35'x35' so the interior layout will feel much more like traditional single family homes. Think 4-story patio home. Prices start at about $550K; average prices with options and upgrades will come in at another $100K.

Wonderland Homes builds new neighborhoods around the Denver area, notably planned communities in Stapleton, so they certainly know about the appeal of urban living. They're adding rooftop patios to their four floor plans to leverage Superior's amazing views of the Front Range, while allowing a bird's-eye view of the city-center lifestyle. New home buyers will be able to pick their ideal amount of space between 1,800 to 2,400 square feet. They're hinting at asymmetrical kitchen islands, technology features, and optional elevators for the multi-level units. Pre-sales and floor designs are available in June, so if you're ready to begin the home buying process, now is the time to act so that you get your best choice of location.
​​​​​​​
Thrive Home Builders, also a local builder with experience in Denver metro master planned communities, prides itself in its award winning energy efficient and health living homes. With design features like double 2×4 walls, using local and sustainable materials like beetle-kill pine, and a focus on indoor air quality, these green homes go beyond energy efficiency. These homes are designed with main floors on the ground level, rather than above the garage, and some will feature main floor master bedrooms.

I know this new Superior community intrigues me. I can't wait to see how the development unfolds. If you are thinking about moving in late 2017 or 2018, give me a call to talk about what Downtown Superior has to offer.