Diverge Homes is a local builder and developer that's making a name for itself. Diverge is scoring a win with its new housing development named in the heart of Lafayette. Incorporating thoughtful architecture with a community design influenced by Lafayette's artistic and active character, this mid-size new neighborhood fits right in to Lafayette's Old Town charm.

​​​​​​​The staff team was curated to include those who understand Lafayette's spirit of history, public art, nature, and an active lifestyle. They've made a concerted effort and from what I've seen they've done an excellent job.

Diverge Homes takes a unique development approach by infilling available tracts of land as opposed to creating sprawl by building outward on large tracts of land. This new community sits on a gem of property surrounded by mature homes. It's only few blocks north from , and is bikeable to local Boulder Valley schools. Five blocks to the west is the Lafayette Town Center. Here you'll find a vibrant restaurant scene that includes the renown brewery , , confectionery , the iconic Efrian's, hip newcomer , and morning-starter – the culinary list is long so I suggest you try a different establishment every week. , Only three blocks northwest is the retail district of East Simpson Street. Cannon Trail is the definition of a neighborhood with walkability!

When you need to burn off the calories from the above eateries, you're in luck. Cannon Trail is in close proximity to many of . At Bob Burger Rec Center you can work out inside or at the outdoor skate park. By incorporating access points to local multiuse trails, the area capitalizes its location. Nearby are the Coal Creek Trail, Waneka Lake open space, and even the aptly named "The Great Bark Dog Park" to the north. The walkability of Cannon Trail could be called "activeability."

Would you rather relax close to home? A nature connection was captured through intent. The neighborhood is anchored on the east end by its own open space. From there walking west you'll be led along the HOA-maintained Colorado Native Plant Walk toward Crescent Park. At Crescent you can compete at the game tables, watch kiddos climb in the boulder area, or simply enjoy the open grassy area. It's hard to believe all these amenities fit into this compact space.
Cannon Trail is a mix of 30 paired side-by-side homes and 9 single family homesites. The duplexes are craftily designed to look like individual homes, each sporting a unique front door and elevation to differentiate it from the others. These paired homes are delightfully named Aster, Arnica, Coneflower, and Sunflower. All have upper level bedrooms with the exception of the Sunflower floor print, which offers a ground level master bedroom. All models are also similar in that they include 3 bedrooms, 2.5 baths, and a 1 car garage. They range in square footage above grade from 1450 to 1800. The open concept layout presents a spacious and accommodating atmosphere. Speaking of spacious, the 9-foot main floor and basement ceiling height is a feature that lends an airy feel. I love the modern clean design and finishes Diverge offers in both the standard and upgrade packages.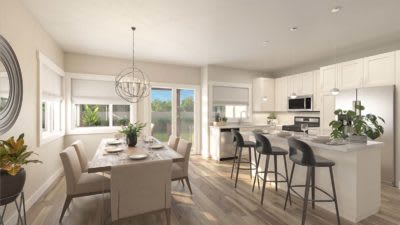 Included are quartz countertops in the bathroom and kitchen, stainless steel sink basins and appliances, hardwood floors, and 6-inch baseboards.

​​​​​​​I'm so impressed by the very approachable new home prices, starting in the high 400's and capping out in the low $500's on the first release homes. Those of us who have been following the Boulder County real estate market know that these prices are in the sweet spot of the market, and are in very high demand! The first release of the paired homes was in late April. It's Game On and if you want to be a player, as soon as possible.

Cannon Trail's single family options give a nod to Old Town Lafayette. An alley encircles at the rear, keeping the front aesthetic of the home garage-free. A third of the designs can have an apartment over the detached garage, while the remaining have an attached garage. These models are fully customizable so you can build the home of your dreams. Three lots are currently available. Again, if you have interest, we need to act quickly.

to get a deeper introduction of what Diverge Homes delivers in Cannon Trail. I think the idea of infill development is brilliant. It's old town charm and walkability that creates high demand in East Boulder County, and they've captured it in this new development. It fits in nicely to the existing environment, offering the best of old and new. If you can see yourself at Cannon Trail, let's make that vision a reality.