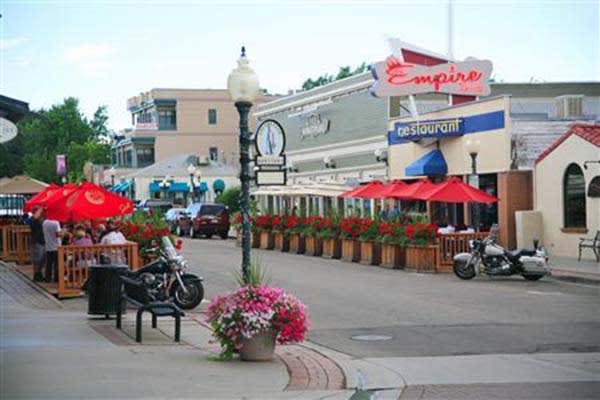 Louisville, Co has diverse restaurant and nightlife options for everyone. If you're looking for real estate for sale in Louisville, you may want to check out the local eateries and bars to help seal the deal that this is where you want to buy a home. Below are 10 of my favorites, Mary Ellen's List of the Best 10 Restaurants and Nightlife in Louisville, CO:
The Empire Lounge & Restaurant – The Empire Lounge and Restaurant on Historic Main Street is a mainstay of downtown Louisville. Lunch, dinner, and a full bar are served. Their Happy Hour is worth the visit alone. $4 craft cocktails and a buck off draft beer whet your whistle. Order several small plates from the Happy Hour menu to share with the table; there are lots of appetizers to choose from so you'll want to try multiple dishes. The fried Brussels sprouts and margherita flatbread are my favs.
Henry's – Henry's puts the dive in dive bar in a nostalgic way. There's no fancy menu (seriously, it's a Chinese menu with hamburgers), no fru fru cocktails, no keeping up with the Jones' attitude. Henry's isn't trying to be a throwback, it just is. Cheap beer, classic rock, and multiple pool tables make for a fun night with friends. This place is so old school it doesn't even have a website.
Lucky Pie – If you want to go out for pizza with multiple generations, Lucky Pie is a delicious option. A family-friendly atmosphere with incredible organic pizza pies wait for you. And if there is a wait, sit outside on the shared patio (with Sweet Cow Ice Cream) – the kids can run off energy in the enclosed AstroTurf front lawn. 21 beers on tap keep your energy revved up too.
LuLu's BBQ – I'm a vegetarian, but I love going to this Louisville BBQ joint! While I munch on sweet potato cheese tots and veggie tacos, my carnivore friends nearly order one of each on the menu so they can try a little of everything. No matter what's for eats, the drinks are always Texas Slush – a frothy frozen margarita/beer concoction that we all love. LuLu's BBQ is rated the #3 restaurant in Louisville from TripAdvisor, #2 as a dinner restaurant (Via Toscana is first).
/pôr/ Wine House – Tucked yourself away in this quaint alley off of Main Street, and you'll feel like you're tucked away to that European vacation once again. Pôr Wine Bar has a Sommelier on staff to ensure the wine list stacks up to the palates of Boulder County's wine lovers. From a single bottle to carafes to wine on tap, the list is deep and impressive. Not into wine? Fine whiskey and craft cocktails accompany the drink menu. Pôr also has a luscious array of tapas, meat and cheese boards, salads, and flatbread pizzas. There's a special each night of the week, and be sure to check out their live music. Pour yourself and a favorite conversationalist into a Pôr table and enjoy this wine haven.
Waterloo – You may have seen the bumper stickers "God Bless Johnny Cash." The Waterloo is where you get yours. This watering hole also pays tribute to Texas by occasionally bringing in a Lone Star State band to its mix of live entertainment. But this isn't a peanut-shell on the floor type of joint; they mix delicious upscale cocktails using spirits from a number of local distilleries. Now in a new location, Waterloo offers fantastic views from their rooftop patio. The menu proudly offers all-natural, locally sourced ingredients. When you want to unwind in a casual dining environment you won't need to sacrifice quality food, beverages, and service at Waterloo.
Louisville Street Faire – The vibrancy of a city can be measured by the frequency of its public entertainment. Louisville, Colorado does an amazing job of welcoming all to Historic Downtown's Steinbaugh Pavilion each summer for the Louisville Street Faire. Running on Friday nights from June through August, the faire has something for every age. You'll be treated to live music from local and nationally known artists; food booths; kids activities; plus local arts/crafts vendors. And, believe it or not, it's FREE. It is a crowded affair, so I recommend hopping on an event shuttle or biking to the venue. You're not truly a Louisville resident until you've done the Faire.
First Friday Art Walk – On the first Friday of each month from 6pm – 9pm, elevate your nightlife to cultural level. The Louisville Art District hosts an art walk featuring permanent public art installations and local artesian artwork for sale within a concentrated downtown location. During these art walk evenings you feel the energy of the community from a different perspective; we're lucky to have such talent and artistry in our midst.
Gravity Brewing – Tucked in a non-obvious corner of Historical Downtown Louisville, Gravity Brewing has become a craft beer connoisseur's haven. Pop in to tip back beers, which they sell to-go as well. I recommend a taste of the award-winning Coal Kriek Tart Cherry Belgian-Style Dubbel – it's sure to put a pucker in your kisser. The in-house eatery, Gastronauts at Gravity Brewing (I love that name), serves authentic NY style pizza and chicken wings, so you can enjoy a bite to eat while you wait your turn for ping pong.
Your own patio deck – when you're ready to make Louisville, CO your home, call me to help you find the best property for sale for at-home entertaining. You'll enjoy all that this town as to offer, from home delivery cuisine to walkable neighborhoods. Named multiple times from Money Magazine as a "Best Places to Live" designation, you can go out on the town or stay home with guests to enjoy the view of the Front Range from your property. I'll help find real estate for sale in Louisville that rivals the pull of all the town has to offer!